BTSA Board 2018 - 2019
Andrea Medrano, Co-President

My name is Andrea Medrano, I am a second year Spanish and Education Sciences double major. I am also going to be seeking a minor in the Spanish/English Bilingual Education when it becomes available. I am also currently a research assistant for a bilingual lab at UCI, so far it has been an amazing experience learning about bilingualism and deficiencies kids have in the English and Spanish language. I absolutely love kids and I love the everything about the Spanish language. I aspire to be a bilingual educator one day and hope to continue to learn about how beautiful and complex Spanish is. My dream is that together as a club we can do amazing things for our community and for the future generations who will carry on the language.


Alejandra Grande, Co-President

My name is Alejandra Grande, I am a third year Education Sciences major and Spanish double major and a prospective Bilingual Education Minor. I work at one of the UCI Children's centers and I love working with kids. I am also an intern for Global Connect at UCI, where I go into a dual immersion high school freshmen class, and I have volunteered at Gates Elementary, a dual immersion school, in a second grade class. As

an aspiring Bilingual teacher,

Spanish was my first language and I speak it at home with my family. I am locally from Anaheim, California, and my parents are from Guanajuato, Mexico and Guerrero, Mexico. I look forward to work with all of you and excited to continue pursuing a career as a bilingual teacher.
Alan Resendiz-Delacruz, Treasurer

Hello, my name is Alan Resendiz-Delacruz and I am a second year Education Sciences major who is looking forward to double majoring in Spanish. A fun fact about me is that I love to wear boots and once you meet me in person you will notice that I always have a pair of boots on. Besides being an activist for immigrant rights, one of the things I am most passionate about is sharing how crucial it is to know another language in today's society and that is why there is a need for bilingual teachers. I look forward to seeing you during our meetings and showing you all what a future career as a bilingual teacher holds for you.
Powered by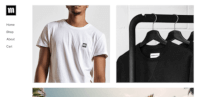 Create your own unique website with customizable templates.